Greater Fort Lauderdale Area Home Sales Spike in August 2020
October 14, 2020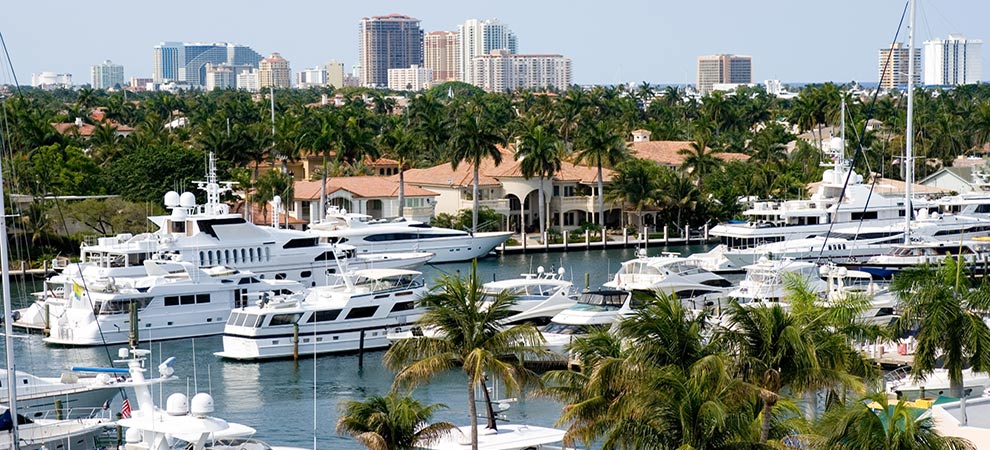 According to the Miami Association of Realtors, Broward County Florida total home sales surged in August 2020. Broward County total home sales jumped 6.7% year-over-year, from 2,895 to 3,089. Broward single-family home sales jumped 16.4% year-over-year, from 1,436 to 1,672. Broward existing condo transactions decreased 2.9% year-over-year, from 1,459 to 1,417.
"Broward real estate continues its remarkable recovery from the global COVID-19 situation as total home sales rose while months of supply declined," Broward Miami President Sharon R. Lindblade said. "Broward County is home to a robust seller's market with just 2.8 months of supply of single-family homes."
Pent-up demand has led to an increase in mortgage applications locally and nationally. Mortgage applications to purchase a home rose 3% last week from the previous week and were a stunning 40% higher from a year ago, according to the Sept. 9 Mortgage Bankers Association's seasonally adjusted index.
The COVID-19 situation has accelerated the trend of homebuyers from New York and cold weather and tax-burdened Northeastern states searching and purchasing homes in South Florida.
Before the COVID-19 situation, the Broward market was exceptionally strong. Miami real estate had record low delinquencies, no subprime mortgage crisis, strong demand/low supply, low interest rates, strong population growth, demand from foreign buyers and tax refugees from tax burdened states, high consumer confidence and a strong job market.
Strong Price Appreciation in Broward
Strong demand coupled with limited supply continue to drive price appreciation in Broward.
Broward County single-family home prices increased 12.5% year-over-year in August 2020, increasing from $369,750 to $416,000. Existing condo prices increased 13.2% year-over-year, from $176,540 to $199,900.
Mid-Market and Luxury Home Sales Jump in August 2020
Broward single-family homes priced between $400K to $600K surged 34.4% year-over-year to 527 transactions in August 2020. Broward existing condo sales priced between $400K to $600K increased 32.4% to 94 transactions.
Broward single-family luxury ($1-million-and-up) transactions jumped 103.5% year-over-year to 116 sales in August 2020. Broward existing condo luxury ($1-million-and-up) sales increased 30.8% year-over-year to 17 transactions.
Record-low interest rates; a record-high S&P 500; the appeal of stable assets in a volatile economy; homebuyers leaving tax-burdened Northeastern states to purchase in Florida (no state income tax); and work-from-home and remote-learning policies have all combined to create a robust market for luxury single-family properties.
Single-Family Home Dollar Volume Increases
Single-family home dollar volume increased 35.9% year-over-year, from $650.2 million to $883.9 million. Condo dollar volume increased 9.6% year-over-year, from $314.3 million to $344.4 million.
According to Freddie Mac, the average commitment rate for a 30-year, conventional, fixed-rate mortgage decreased to 2.94% in August, down from 3.02% in July. This gives consumers incredible buying power. The average commitment rate across all of 2019 was 3.94%.
Lack of access to mortgage loans continues to inhibit further growth of the existing condominium market. Of the 9,307 condominium buildings in Miami-Dade and Broward counties, only 13 are approved for Federal Housing Administration loans, down from 29 last year, according to Florida Department of Business and Professional Regulation and FHA.
A new condo approval process is expected to increase sales. The new guidance, which went into effect in October 2019, extends certifications from two years to three, allows for single-unit mortgage approvals, provides more flexibility with owner/occupancy ratios, and increases the allowable number of FHA loans in a single project. The changes, many of which MIAMI and NAR has championed, are expected to generate increased homeownership opportunities.
Broward Distressed Sales Stay Low, Reflecting Healthy Market
Only 2.5% of all closed residential sales in Broward were distressed last month, including REO (bank-owned properties) and short sales, compared to 3.4% in August 2020. In 2009, distressed sales comprised 70% of Miami sales.
Total Broward distressed sales decreased 19.6%, from 97 to 78.
Short sales and REOs accounted for 0.7% and 1.8% year-over-year, respectively, of total Broward sales in August 2020. Short sale transactions increased 10% year-over-year while REOs decreased 27.3%.
Nationally, distressed sales represented less than 1% of sales in August, equal to July's percentage, but down from 2% in August 2019.
Broward Real Estate Selling Close to List Price
The median percent of original list price received for single-family homes was 97.1% in August up 1.1% from 96% last year. The median percent of original list price received for existing condominiums was 95%, up 0.1% from 94.9% last year.
The median number of days between listing and contract dates for Broward single-family home sales was 27 days, a 37.2% decrease from 43 days last year. The median number of days between the listing date and closing date for condos was 51 days, the same from last year.
The median time to sale for single-family homes was 71 days, a 84% decrease from 84 days last year. The median number of days to sale for condos was 90 days, a 1.1% increase from 89 days.
Broward's Cash Buyers Top National Figure
Broward cash transactions comprised 27.2% of August 2020 total closed sales, compared to 31.9% last year. The national figure for cash buyers is 18%.
Broward's high percentage of cash sales reflects South Florida's ability to attract a diverse number of international homebuyers, who tend to purchase properties in all cash.
Condominiums comprise a large portion of Broward's cash purchases as 42.4% of condo closings were made in cash in August 2020 compared to 14.2% of single-family home sales.
Seller's Market for Single-Family Homes, Balanced Market for Condos
Inventory of single-family homes decreased 35.8% in August from 5,436 active listings last year to 3,492 last month. Condominium inventory increased 3.1% to 7,799 from 7,563 listings during the same period in 2019.
Months supply of inventory for single-family homes decreased 33.3% to 2.8 months, which indicates a seller's market. Inventory for existing condominiums increased 18.2% to 6.5 months, which indicates a balanced market. A balanced market between buyers and sellers offers between six- and nine-months supply.
Total active listings at the end of August decreased 13.1% year-over-year, from 12,999 to 11,291. Active listings remain about 60% below 2008 levels when sales bottomed.
New listings of Broward single-family homes increased 4.4% to 1,796 from 1,720. New listings of condominiums increased 12%, from 1,828 to 2,047.
Published by worldpropertyjournal.com